JIM TERR PERFORMS
for Banquets, Conferences, Conventions, Weddings,
Parties, etc..--New Mexico and Beyond!!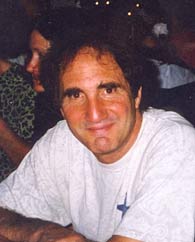 I laughed. I cried. I got in touch with my inner child and bought him an ice cream cone.
Then I laughed some more. -Eliot Kohen
Jim's casual, unscripted stage presence provides an intimacy with his audience
that few performers attain. His self-deprecating humor, rather than projecting any
self-consciousness, simply brings the audience closer.
A thoroughly enjoyable evening of entertainment. -Louise Drlik
To hear a live performance sample, CLICK HERE
The gentle humor and rich warmth of the evening linger long after the last chord
has faded. -Beth Lehman
Funny, warm, enthusiastic, joyous and inexpensive. See this show! -Howard Singer
Terr created a room full of love. -Santa Fe Reporter
Wit, charm, irony--and good music, too! -Elizabeth West
Jim Terr writes songs like some people carry their lunch. I laughed. I cried. I drank
unusual amounts of iced tea. -Steve Terrell
"Wise, witty and whimsical!" -Tony Hillerman "Bodacious" -Dave Barry "A threat to musical serenity" -Billboard Magazine "A modern-day Mark Twain, Will Rogers, Jimmie Rodgers and Jackie Mason rolled into one." -Rick Sanjek, vice president, BMI "The fastest songwriter in north central New Mexico" -Albuquerque Journal "Sorely needed comedy in these uncertain times" -Country Music People (UK) "Well-done songs with a topical edge, with humor, a point of view and a concern for human dignity...a wonderful surprise..." -Billboard Magazine
Our deepest appreciation on your outstanding performance...enlightened the hearts
of New Mexico's elders... Your sense of humor and your uncanny ability to draw the audience in for audience participation...received numerous
compliments regarding your performance.
-New Mexico Conference on Aging
Bravo!! Thank you very much for your great performance at this year's New Mexico Veterinary Medical Association Banquet. You were a definite hit. Your combination of humor and...sarcasm was well received by the attendees. Your performance at our monthly Network Meeting was an overwhelming success. I received numerous calls
on how entertaining your humor was. It was the highlight of our meeting.
-Santa Fe Convention & Visitors Bureau
Thank you for your wonderful entertainment at our fund-raiser. Your hilarious songs and your touching performance kept the audience spellbound and made it a very warm, special event...everybody loved it and you were the obvious hit of the evening. Your presentation was entertaining, funny and light-hearted and certainly enhanced the success of our evening. -Tourism Association of New Mexico
As is your custom, you have offered another wonderful performance of your work. We loved it. Our close friends and associates...thoroughly enjoyed your style: understated, hysterical humor performed in a way that invites a strong response and creates a sense of community... Your outrageous take on the mundane and extra-ordinary events...is a most welcome and festive perspective. -The Lofts (Santa Fe)

Jim Terr's work has aired on the ABC, CBS, NBC/Mutual, Westwood One, BBC (British) and National Public Radio networks, Voice of America, the Larry King, Jim Bohannon, G. Gordon Liddy, Jim Hightower, Dr. Demento, "Mountain Stage," "This Way Out" and "Whaddya Know?" radio shows, NBC- and CBS-TV News, in film, and has been broadcast in over 20 countries.
He wrote and performed the national jingle favorite, "Sing a Song of Snapple."



Buddy says: "And don't forget about Buddy!"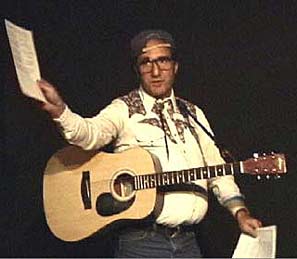 " We just wanna be your friend."
Often appearing with Jim Terr (or without him) is the fabulously down-to-earth entertainer, "Buddy", quickly becoming a major star of the music, film and performance worlds.
Get him while he's affordable! (Click here for info on Buddy, including
LIVE PERFORMANCE VIDEO).
The Tricklock Reptilian Lounge audience LOVES Buddy; they eat him up. Buddy is profoundly amazing ... with a guitar, a pot belly, and a sincere desire to just want to be your friend. Buddy is instantly likeable - spouting satirical songs and attitudes with such fresh innocence, unaware that he is hitting the heart ... Who knew that a pot-bellied, sincere, simple red-neck could be so damn loveable!
-- Kerry Morrigan, producer and co-host,
Tricklock Theater's Reptilian Lounge, Albuquerque, NM

I am totally a fan of Buddy's...I think if more Amurricans could just see things from his point of view (although he DOES heroically admit that his past has its flaws) well, we'd just be a lot better off, that's all. It's so refreshing to come across someone with no hidden agenda, who just wants to be my friend. Have you got any bumper stickers out for Buddy?
--The Legendary Panama Red
---
Buddy's repertoire of sensitive, insightful songs, often written on the very day of
performance, move his audience to tears and laughter in unexpected ways.

Just to name a few: "I Meant Every Word of Whatever I Said", "What Do You Need with a Woman Like That (When You Could Have a Man Like Me)?", "Come Here Darlin', This Won't Hurt a Bit", "Tell Your Husband I'm Coming Over", and "Fifty Year Old Lover" ( "...Don't be afraid of a little gray hair, that's the badge of well-spent years / Don't be turned off by them curly whiskers growin' outta my ears / Don't turn away from the smell of Ben Gay, steamin' offa my skin / Just try my lovin' one time, you'll be comin' back again..." )